Punta Jaguar
Its a jungle out there A towering three-story treehouse set amid the jungle canopy, Punta Jaguar is the perfect base for your adventures on Costa Rica's Osa Peninsula. Built with unique, breathtaking views of the ocean and jungle, Punta Jaguar is alive with the myriad species of birds and animals of the Osa Peninsula – one of the most biologically diverse places on Earth. Situated 120m above sea level, Punta Jaguar is cooled by constant sea breezes and serenaded by the sounds of the jungle all around
Its A Short Walk To The Surf
You can see, hear and feel the swell coming in from our tree house. From Punta Jaguar you take steps that lead you to the three surf spots within a 10 minute walk: Matapalo, Backwash and Pan Dulce. The house itself is set in 3 hectares of primary rainforest an accessible by road.
Your Jungle Andenture Destination
Combine equal parts adventure and tranquility and you've got the Punta Jaguar experience. Lovingly hand-crafted by local artisans, the accommodations are luxurious but simple, artfully crafted from a mix of local woods—purple heart, teak, manu—and local materials. The hand built spiral staircase, hand crafted furnishings and cabinetry and artful windows to the outside world reflect the Lovelys' deep sense of respect and love for this amazing location. And the location… beautiful water views of Cabo Matapalo will inspire you to catch a wave from one of the many local point breaks—suitable for any experience level. Saying that you can "see wildlife" here doesn't do it justice. Capuchin monkeys, Scarlet Macaws, sloths, humpback whales, eagles, hummingbirds, titis, howler monkeys… these are the neighbors, and make regular appearances. The protected Corcovado National Park next door shares its incredibly wealth of bird, animal and plant life with us.
You drive from Puerto Jimenez in the direction of Karate for about 45 minutes on the 245. At some point you will see a turn-off to the left to Matapalo, which you do not take but continue straight ahead. On the right there is a wooden sign for the hotel "Lapa Rios", you will also drive past it. 
What Our Customers Say About Us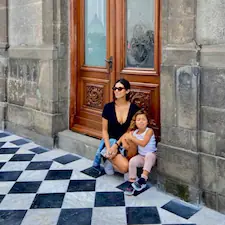 Yamila
All I can say is Woow! House vibe, location and the staff is incredible. As soon as we checked out we had to book the house again immediately. 4x4 is a must and use Lapa Ríos as a orientation point in Waze or Googl Map
Today weather
- Humidity: 59%
- Wind: 3.37m/s